Our first summer in three years. The skis are packed away in favour of hiking and swimming. I just dropped the children off at the small summer camp held here over the school holidays and left them running around in a sprinkler enjoying the sunshine.  It's strange to think that just two months ago we were snow-shoeing.
A deserted ski resort is a magical place to spend the summer. The ski runs are green and covered in flowers. Hundreds of little creeks running high from snow melt crisscross their way around the mountain. Just 500m away from our house are woods, streams and hiking trails. It's quite the norm to go for an hour hike and see no one. Just marmots, squirrels, chipmunks and birds. Sure there's the fear of stumbling across a bear (a large rock lurking in the shadows made me jump half a foot yesterday until I realised it was just a rock … I did glance back a few times just in case it was a particularly sneaky bear masquerading as a rock!) or getting dragged off by cougars who want to eat your face … but mostly it's pretty flowers and chipmunks!
At least that's what I tell myself when I'm out hiking!
We're really enjoying life here. This mountain is starting to feel quite like home. It's the longest we've stopped in one place in five years and we're really enjoying coming home to the same place night after night, week after week. We planned a two-week road trip last month and came home after 4 days. After travelling for so long we're just enjoying being stopped. We've applied for a visa to say longer but we won't know whether it's been approved for a few months yet.
As lovely as it is to stay in a ski resort during the summer, it's been quite a lifestyle adjustment. Overnight the mountain empties and all the stores shut. One day there are people everywhere, restaurants to eat at and a market to grab that carton of eggs you forgot to buy at the shops earlier in the week.
Suddenly everything closes and it's a forty-five minutes drive to get petrol and groceries.
We've always lived in large towns and cities where every convenience is just around the corner. Forget to buy milk? No problems, just walk to the corner store. Here in summer forgetting to buy milk means a forty-five minute drive and $15 in petrol. I can plan a trip around Asia but remember to get everything I need from a grocery store … no way! So that's been a learning experience for me. Thankfully one coffee shop remains open year round so I never have to run out of caffeine! (I quietly suspect my husband bribes them to stay open so I never run out of caffeine … it's safer for the whole family!)
We thought BC in winter was lovely but we've since come to realise that summer is more spectacular. The valleys and lakes are just gorgeous. Like this valley we drove through on the weekend near Armstrong, an hour north of here.
Pretty right! I'm tempted to Photoshop Julie Andrews straight into the picture or run through it singing 'the hills are alive'.
This nearby lake where friends have their summer cabin … also rather picturesque. The kids even went for a swim. I'm waiting a few more weeks … I'm sticking to caffeine as a way to wake up instead of throwing myself into brisk Canadian lake water.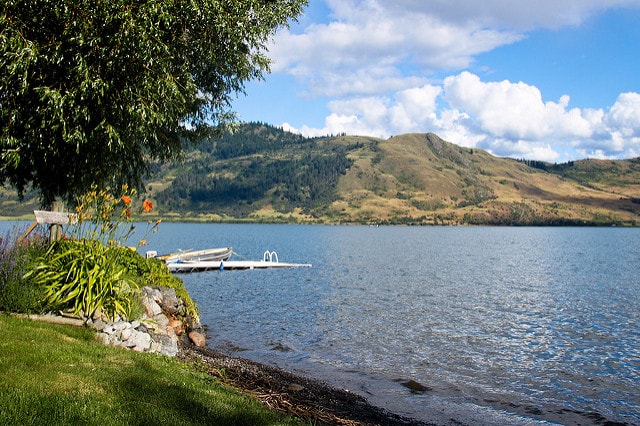 Here on Big White, the landscape is more rustic and rugged. But that's also lovely because it's new to us.
<>
The seasonal changes up here are huge. I swear the mountain looks different every day. Eight weeks ago we were sledding to school. Three weeks ago the mountain was still capped in snow and the higher altitude lakes were frozen over. Now the wildflowers are appearing, it's 25C and we're wearing hats to avoid sunburn. In a few weeks the berries will be out … and then it won't be long until it starts to snow again.
Our backyard is home to three chipmunks and a marmot family. They constantly chase each other around the yard. Yesterday two chipmunks were playing chase at our back door during breakfast and this morning a marmot was sitting on our doorstep. Last night during dinner we watch Mr Marmot beat up Punk-Kid marmot trying to invade his territory. One got into Hayley's lunch box yesterday while she was out on a hike and had a great time chomping away on her banana. Humming birds are visiting the feeder we hung out our window. Every night this week they have come to feed while we are eating dinner. We even spotted deer footprints in the yard and saw a sneaky fox running past early one morning … most likely chasing the marmots and chipmunks!
Noah would like to tame one of the chipmunks and let it live in our house. We've explained they like to chew things but he has a plan to get around that. It involves boarding off the stairs and his room with wood and nails. I think we should hide his hammer just in case he was serious!
Driving around BC over the past month we've spotted three young black bears, four moose and more deer than we can count. Having never seen these animals in the wild before it's quite exciting for us. We haven't seen any larger wildlife near the village, although I've seen plenty of deer prints down the main street and more than a few bear prints on the outskirts of the village. The tales from long-time residents about waking up to discover a bear on their third-story bedroom balcony are just a little alarming to us.
One of the best parts about being up here over summer is the hiking. I recently hiked to Rhonda Lake with a friend. Located at the bottom of the Cliff Chair, Rhonda Lake is 2000m above sea level. When I visited in mid-June the lake ice was just starting to break up and a lot of the nearby chutes still looked skiable.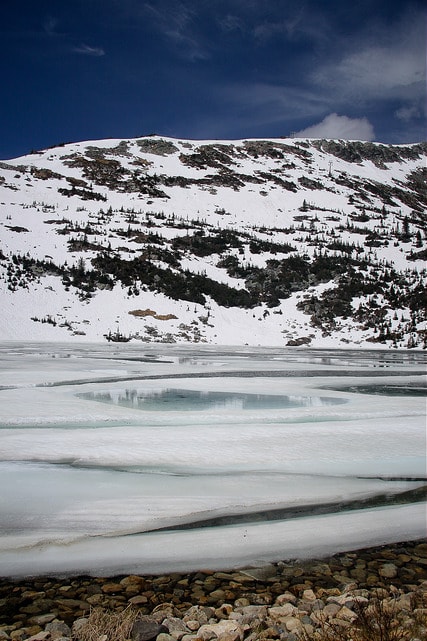 We hiked up again on the weekend to discover all the ice was gone, as is most of the snow.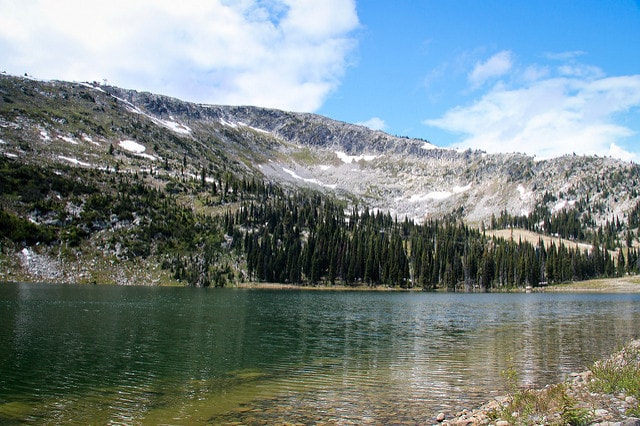 We stuck our toes in before hiking back down, just beating a heavy downpour. We're looking forward to getting back there in a few weeks when the water is warmer … although I seriously doubt a 2000m high lake ever gets warm enough for more than toes!