We're still enjoying life at Phra Nang Lanta on Koh Lanta. The hotel is amazing. We have the place to ourselves, the staff are wonderful, the room amazing and the beach is mostly deserted. What more could you want?
On Sunday we decided to pack up the computers, forget about work and hire a bike. Noah was very excited to be hopping back on a bike until he saw the only bike left at the hire company… a bright pink number. He dug his heels in and insisted there was no way he was riding a girls bike. Eventually we convinced him that yes he was and off we set.
Our first stop was Old Lanta Town on the east coast of the island. The ride there was a lot of fun, past elephants, cows and villages.
Set right on the waterfront, Old Lanta Town was originally a chinese trading port before Melaka and Singapore rose to significance. We were lucky enough to arrive just before the Sunday morning markets finished so had the opportunity to view all the strange fish, vegetables and fruits for sale. We bought a small watermelon and sat down with some local Thais to eat it in a small park before exploring a local playground and washing up with water drawn from a well.
After a week of only seeing the tourist side of Thailand it was nice to see an example of everyday village life. The quiet streets also provided a good place for the kids to enjoy riding solo with Dad.
<>
The highlight of the ride home was trying to get over the small range in middle of Lanta with 4 people on a ridiculously underpowered bike. The kids ended up flapping their arms to give us extra power and we only just made it.
In the afternoon we rode from Ba Kan Tieng to the far southern beaches of Koh Lanta. The road south was bumpy, unsealed and extremely hilly. Hayley and I walked over most of the hills as the bike just couldn't make it. At one point we had both children flapping while Colin and I pushed with our feet, as a local lady laughed her head off at us. Still it was worth the effort to visit Klong Jark beach. The pictures below speak for themselves.
<>
<>
<>
<>
Our Sunday adventures ended in the same way that every good day in southern Thailand should end – eating dinner overlooking sunset at the beach.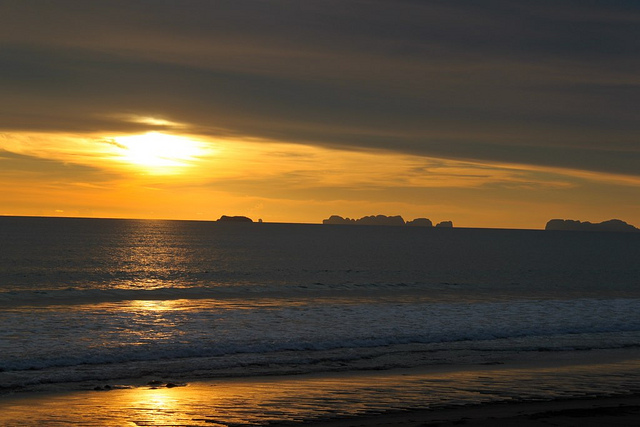 Unfortunately the red shirt situation in Bangkok have gotten a lot worse so we've decided to cut our Thailand trip short and come back in a few months. You would never guess there was any trouble here in southern Thailand but we don't want to risk things spreading or the airports being shut down. Unlikely but we have to meet family and friends soon in other countries so we can't afford to be delayed.
So next its off to Laos for two weeks before meeting up with Nanna in Vietnam.