While I knew we had to go to Ella to experience the train ride, there was one big problem – once we were in Ella our transport options out of town are a little limited. And most of those limited choices either don't sound a lot of fun with kids or are expensive.
We had two nights before we needed to be back in Colombo to meet with Nana and Poppy. Ella is up on in the mountains near the end of the road and train line from Colombo. There are really only two ways out by public transport – back through the mountains where we'd just been by road or train, or south to the coast. We could stay in Ella for another two days before catching an overnight train back to Colombo but we didn't want to spend two days in Ella as Colin needed better Internet to get some work done. We could take a bus or train back to Nuwara Eliya or Kandy, stay one night then take another bus or train back to Colombo. Long travel days and winding roads didn't sound fun.
Or we could catch buses down to the south coast the beaches and Galle. That option would require at least two, if not four or five local buses and a full day of travel. Friends had taken a similar route from Ella last year on local buses and through conversations I'd had with them those bus rides didn't sound like the highlight of Sri Lanka trip.
So that left hiring a private car with a driver to take us to Galle. Six hours in a comfortable AC van sounded really, really appealing. The $100 price tag we were quoted didn't.
But given the alternatives and the fact that Colin needed to get somewhere he could work quickly it seemed the best option. Besides, including the $20 taxi from the airport to Colombo on our first day, we'd spent less than $35 in total on transport over the past 8 days. That's much cheaper than any other country we've travelled in so we didn't feel so bad about splurging.
As promised the drive took six hours through stunning mountain scenery and flatter rice-growing land until we reached the coast where the landscape changed to lakes and gorgeous beaches. May is the start of the off-season so the seas were rough but you could tell at the right time of year those beaches would be lovely. Traffic was frustrating once we hit the coast, as was the driver but we got there.
Galle Fort
Galle is a large coastal city on the south-western tip of Sri Lanka. Galle itself resembles every other city we've seen in Sri Lanka. But when you pass through the walls of Galle Fort it is like entering a different country.
Wide spotless (if a little dusty) streets with almost no cars.  Dutch architecture; some beautifully restored, some falling down as coconut trees over take the blocks of land. All surrounded by old fort walls topped in grass paths that are wide enough to walk around. Galle Fort is a beautiful blend of European and Asian architecture and is the largest remaining European fortress in Asia.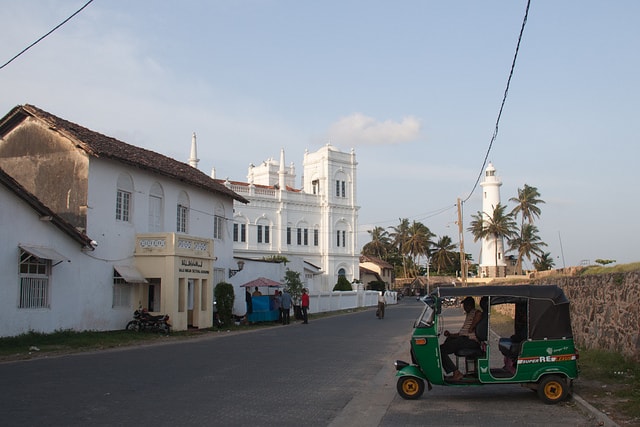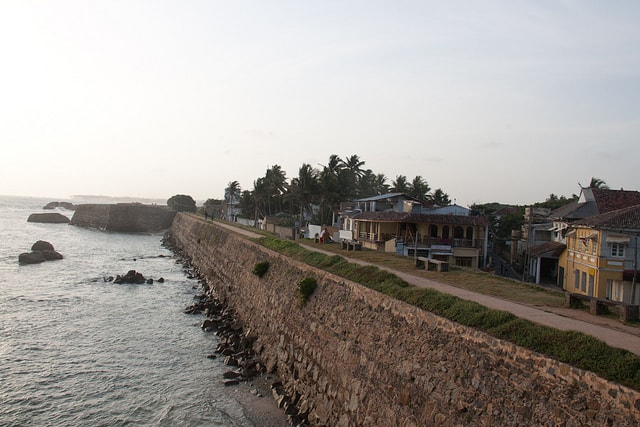 We found a new guesthouse, Millennium Rest and Gems owned by a local jewelry maker. Being low season we got a great deal on two rooms. See if you can guess why Hayley picked this room?
<>
The kids camped out in the gem store with the owner showing them gemstone after gemstone (he was incrediably patient and lovely!) while Colin went off to get his work done and I rested. Then it was time for us to explore Galle Fort.
<>
<>
Any theories that we'd somehow taken a wrong turn and been transported to another country were dispelled when we reached the park near the barracks inside the fort and saw the afternoon cricket match well under way. Yep this was certainly Sri Lanka!
Even though we only had one night there, Galle Fort is one of the places we've enjoyed most in Asia with the kids. It's clean, quiet, friendly and beautiful. There were plenty of restaurants with western choices for the children, even if prices were more expensive than we've seen elsewhere in Sri Lanka. The nearby beaches looked amazing and so close to the city you could easily stay at in the city and spend your days on the beach, or visa versa. We didn't make it to the museums but from speaking with other families they sound fascinating.
The one thing we did learn though is either book a place that serves breakfast or expect to head outside the fort to eat if you like to eat before 9am! We saw a lot of the fort scouring the streets for food for an hour at 7.30am before finally giving up and catching a tuk tuk outside the walls.
Madampe
After our one night in Galle we headed to a small beach town one hour away between Hikkaduwa and Ambalangoda called Madampe. A lovely Australian lady who was staying at the same guesthouse in Ella invited us to come spend the night in her luxury villa, 6 Degrees North, on the beach just north of Galle. Swimming pool and villa right on the beach for a night with great company … sold!
We had a wonderful night on the beach chatting while the kids swam. The next morning I woke to an empty house only to find the kids down the beach playing with a young dog while Colin pulled in 1km fishing nets with a large group of local men all chanting and pulling together. It was an impressive thing to watch them all working together.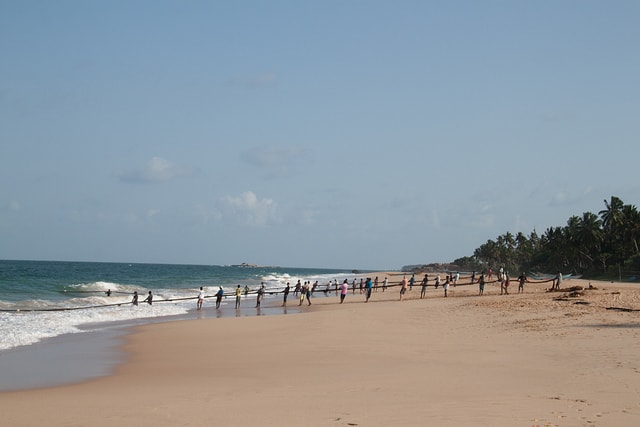 We had a lovely time there and could have stayed in Madampe a lot longer. Quiet beaches, sunsets over the water, a nearby lake filled with birds, kids flying kites and playing beach cricket each afternoon that are happy to chat and share stories. Plus a nearby turtle hatchery … what's not to like! It really was a great place with kids. I can imagine in high season when the sea is safer for swimming and there are whales off the coast that a family could easily spend a week there and not be bored.
But for us it was time to get back to Colombo to meet Nana and Poppy!