Greece is our favorite destination for island hopping. It has so many things to offer from kid friendly activities to romantic sunsets. The Greece Islands culture are diverse and well worth. Each place has its own identity, charm. To name the best islands to delve into, many will choose Santorini, however, there are so many others to choose:
Crete
Of all the Greece Islands , Crete is uncommon. It is the largest in the country and birthplace of Zeus. Whether you choose to stay around for days or weeks, there is plenty to explore such as beaches, canyons, snow-capped peaks and the ancient ruins. You can start with the tranquil beaches and yoga retreats in the south of the island before you head to the mountain villages for an unmatched local life encounter.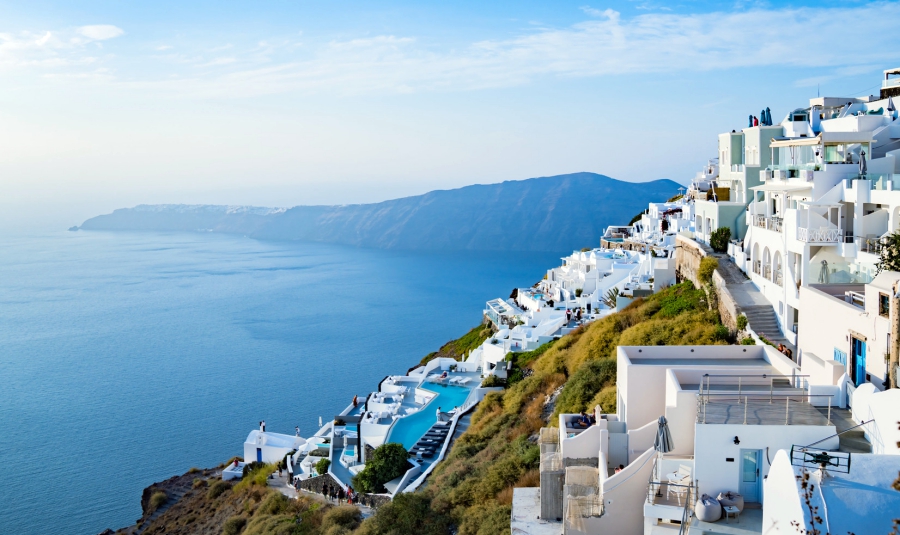 Santorini
If there is a place you shouldn't omit for honeymoon holidays in Greece, it is Santorini. What takes first the visitor's mind is the view of the sun as it sinks behind the Island's caldera and vertiginous cliffs. Aside from a boat trip to the crater of Nea Kamei and wine tasting at Sigalas and Vassaltis wineries, nothing much is mesmerizing than taking in the awe-inspiring views of the encircling scenery from your suite.
Skiathos
Ranked the tiniest of the Sporades Islands, Skiathos has some of the finest beaches in Greece. Of all beaches, Koukounaries in the south is the most preferred. This tree-lined spot lures beachgoers with fine sands and turquoise waters. Heading to the north of Skiathos, you find Elia beach which defines itself unusual with a crystal clear sea and rickety wooden taverna. Make sure to check out Papadiamantis, a vibrant street with smart boutiques that sell knick-knacks and handcrafted jewelry. Head to Sklithri for the most charming setting. You can book for one of the Taverna's tables and order for some baked feta, perfectly-chargrilled delicious vegetables and an ice-cold Mythos beer.
Mykonos
With its gorgeous beaches, peaceful atmosphere, luxuriant hotels and restaurants, I see no reason to ignore Mykonos on your bucket list. The Island's bohemian allure has existed since the 1960s. The list of breathtaking spots on Mykonos is eternal but don't ignore Scorpios, a louche beach bar that puts Ibiza's finest in the shade. For superfood salads and lamb chops, Fokos taverna and Kiki are some of the choicest eateries around.
Lefkada
Lefkada is a mecca for surfers and beachgoers. It was hit by an earthquake, but still has something for those who are in Greece for beach hopping, this is its two famed cliff-backed beaches (Egremni and Porto Katsiki). If surfing takes your attention more than beachcombing, the South coast is for you to go. Don't miss Sivota or Vassiliki (home to the world's windsurfing championships) and Agios Ioannis is for kite surfers. Other than surfing and beach life, there is a lot of intriguing spots to see in Lefkada's mountainous interior such as Exanthia, Eglouvi and the somnolent villages of Karya (home to a great textile museum).
Hydra
If you are a person who is island hopping in Greece but as well have much love for art, try hard not to omit Hydra. This Greek island has loads of art designs including Dakis Joannou's yacht that was elegantly painted in gaudy's camouflage by Jeff Koons. Adding to the pure shorelines that are filled up by the Greeks over the weekends, Hydra is also home to the wily cats and the weary donkeys.

With over 70 untouched beaches, Milos is a must-see. This volcanic island offers one of the most desirable photogenic scenes in Greece. If you are an Instagram fanatic, don't miss to take some pretty photos with a backdrop of the bottle green swimming hole at Papafragas, undulating cliffs at Sarakiniko, tiny boat houses wedged between rock and sea along with the colorful rickety syrmata.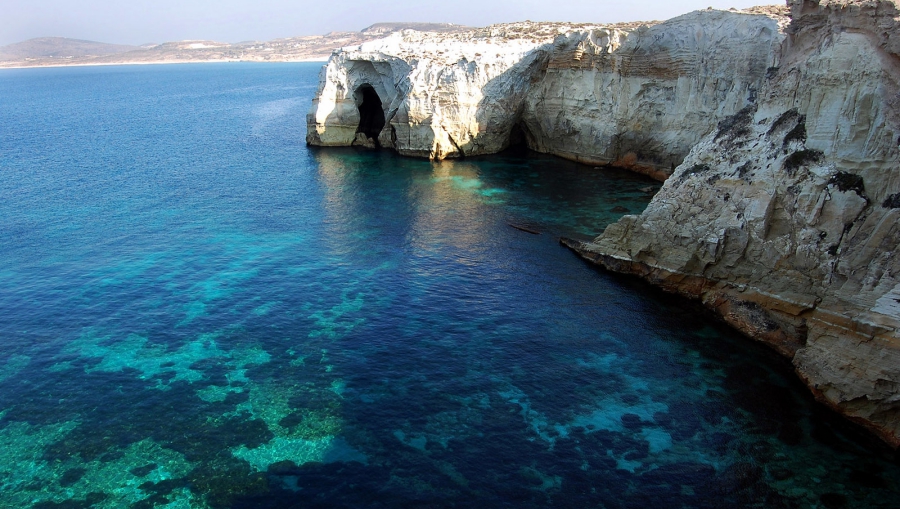 Serifos
Serifos is another appealing spot for island hopping in Greece. It invites holidaymakers with copious sun-drenched beaches, blue-green waters and calm atmosphere. If you are a foodie, don't miss the freshly caught fish and garden-grown salads at Anna's taverna, a great eatery on Sikamia beach. Apart from that, there is still more to relish, including the mind-blowing Greek folk offered in an open-air Amphitheatre
Amorgos
There are many reasons that Amorgos Island is amongst the travelers' favorite draws in Greece. Some of them are crystal clear waters that are perfect for divers, multiple hiking trails and the famous Monastery of Hozoviotissa (a sliver of white dangling 300 m above the sea). Trails used for hiking adventures enchant travelers with continual panoramic views of the sea and sky. If active adventures do not appeal, Amorgos is also known for its lively nightlife. This Cycladic Island has a plethora of late-night bars where groupies meet for cocktails, jazzy tunes and herbal infusions.
Cephalonia / Kefalonia
For those who fancy a blend of Island and Wildlife encounters, Kefalonia should be your first stop. This Greek Island has enough things to make it known but gained more popularity when it was featured in the World War II film. Its scenery is unmatched and attracts many travelers from different parts of the World. If you are taken by photos, make sure to have some in Kefalonia's remarkable setting that includes the giddying heights of Mount Ainos (home to wild horses and deer), pine-fringed Horgota beach and the milky-white Myrtos beach.
Corfu
Pastel villages, rolling olive groves, grand manor houses and a fine a setting full of fresh air are the reasons why Corfu is a travelers' favorite destination. The most captivating area to start with is Agni, a tiny fishing village with three tavernas. For a deeper insight into Corfu's natural wonders, you can boat cruise to one of its bays (Agios, Kerasia, Stefanos and Nissaki). Another hard to omit dot is Ambelonas, a great winery with a restaurant and cooking school that teaches how to prepare Corfiot dishes like rose petal jelly, squid with chickpea and turmeric mousse.
Ithaca
Ithaca is known for turquoise and emerald coves, but there is a lot to appreciate if you love active adventures. Its forested hills consist of various hiking trails that treat adventurers with unrivalled hiking expeditions. Some of these adventures include the heady trek to the church of Anogi or the 8th century BC ruins of Odysseus' palace. On your way, you can stopover at Yefuri for some fat chips, lemon and the thin pizza. For cool relaxations with some fresh drinks, see your way to Spavento, a pier-side cafe bar that serves excellent cocktails and ice cream sundaes.
Folegandros
Besieged by fruit trees and rings of stones, Folegandros is ideal for anyone who is seeking a glimpse of the Greek local life. Some of its highlights are the pebble coves (Livadaki, Ambeli and Katergo) and Chora, a three square area with a jumble of cafes, raki bars and tavernas. Make sure to check out Panagia church, the only real landmark around.
Syros
Adding to the beautiful 19th-century city of Ermoupoli, Syros tempts travelers with varied hosted festivals of digital art, dance, animation, classical music and film. For culinary adventurers, there is something special for you in the available seaside tavernas such as Ambela (best for fresh fish), Iliovassilema and Allou Yallou. Venture further to Prekas for some cheese and handmade wooden sun-glasses at Zylo.
Zakynthos / Zante
Zante is a true delight for travelers of varying interests. Whether you are after beaches, Wildlife or trekking, there are all in place. To the south coast is the nature reserve (hatching ground for the endangered loggerhead turtles). If the beach doesn't sound a lot, you can try hikes and biking in the mountainous interior for sweeping views of stone villages that poke out of pine forests.