In north Vietnam, there are many characterful destinations and Ninh Binh is such a beautiful place. The area boasts a stunning mix of natural and cultural heritages. The province with its fascinating attractions promise some unique travel experiences that you may not find elsewhere in Vietnam.
While for Tam Coc and its karst mountain amidst Ngo Dong river is so photogenic, adventurers find chances to tackle the rain forest in Cuc Phuong National Park.
To know more about Ninh Binh, check my further guide :
How to get to Ninh Binh
Ninh Binh one of the hidden gems in Vietnam can be accessed from different cities including Hanoi the capital of Vietnam. These are the different options of getting to Ninh binh.
Train
Travel by train from Hanoi to ninh binh, the distance is 90 km taking about 2.5 hours for the journey. Often every day about 6 to 8 trains for Vietnam railway service leave Hanoi Railway station to Ninh binh arriving at 1 Hoang Hoa Tham Railway station. Cost for train ticket range between $3 – $7 USD per person. Below is the train schedule.
Bus/Minivan
Many buses leave Hanoi for Ninh binh on daily basis, travelling by bus or minivan takes about 2.5 – 3 hours for the drive. Various bus companies offer these service and the price ticket for bus range from $6 to $9 USD per person (100000-170000 Viet dongs). Some of the available recommended bus companies include Grouptour, Hoang Long, Non Nuoc Ninh Binh and Queen Cafe. You can buy the tickets online via 12go.asia or Baolau.
Taxi.
Cars are available for rent and drive your way to Ninh binh, it takes 2.5 hours for the drive and costs for the rental range between $60 – $130 USD for one way. Some of the operators to book with include Dichung taxi, Grouptour and more.
Motorbike
A day trip to ninh binh is also possible, you can do this by renting a motorbike and see your way to ninh binh. Motorbikes are available for rental and one day costs $7 -$15 USD. Grab a best deal with Rentabike.vn.
Things to do in Ninh Binh
Listed below is a diverse range of top stirring things to turn Ninh binh a main highlight for your trip in the northern part of Vietnam.
Explore Trang an Grottoes
Trang an grottoes, one of the most outstanding attractions. It consists of an array of caves, rocks towering the area as well as networks of lakes, canals and rivers. A day spent here may turn it a main highlight for your trip to ninh binh. Entrance ticket to Trang An includes a 2.5 hour boat ride downstream for picturesque sights of lakeside temples, towering rocks, visit grottos and ancient pagodas.
Catch the thrill in Thung Nham Valley
Starting from Thung Nham bird garden which provides habitat to a diverse range of bird species, majestic mountain scenery to a number of caves like But cave, Vai Gioi cave, and Ba Co cave remains the top highlights to wonder while in Thung Nham valley. Bird lovers expect also to see the two rare bird species which are recorded in the Red Book of Hong Hac and Phuong Hoang. Caves are easily explored on a two hours private boat ride.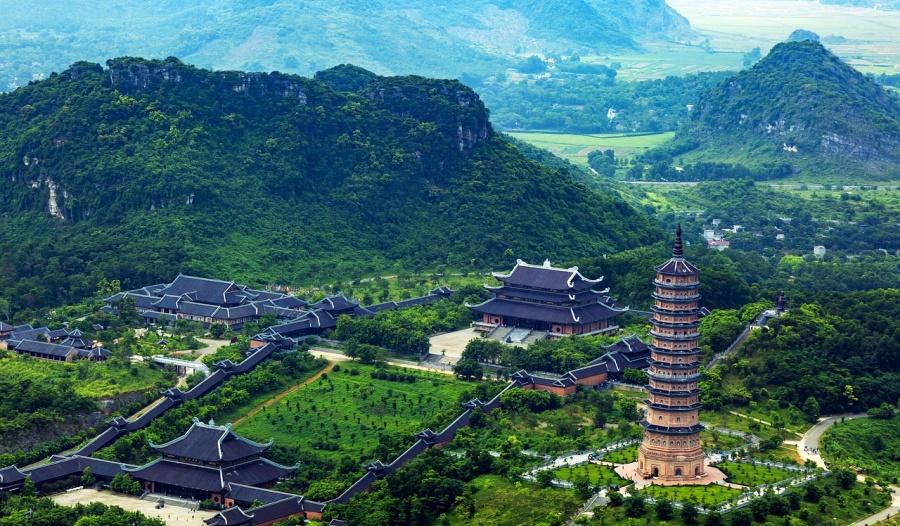 Visit Bai Dinh Temple
One of the best spots in ninh binh, this historical sites present the largest complex of temples in its compound. It's a famous destination for religious pilgrimages and rated perfect for tourists interested in Buddhist and spiritual art.
Trek to the peak of Mua Cave
Feel the thrill with a climb to this iconic site in ninh binh, it takes about fifteen minutes to trek up 500 steps reaching its peak. From the top on sight is the eye catching views of Tam coc, Mountains and sparkling rice fields in place.
Take Tam coc boat ride
Switch from the bustling life of the city like Hanoi to natural beauty with an attracting boat ride along Tam Coc River. This boat reveals several views of natural landscapes and chances of sighting rural religious sites hidden away from view are high.
Visit Van long Nature Reserve
For nature lovers, why not Van Long Nature Reserve? It's ranked as the biggest wetland reserve in the northern part of Vietnam. Van Long is home to different Wildlife species including primates like the endangered Delacour's Langur. Get sight of different species as well as filling the natural serene environment.
Go local in Kenh Ga Floating Village
Is your interest more about experiencing local life in vinh binh? Kanh Ga village also known as chicken canal is best to soak into that local touch. Experience the daily life of local people in the village, participate in different local activities like fishing, boat ride and more.
Visit Cuc Phuong National Park
Considered one of the main National Parks in Vietnam, Cuc Phuong is home to 307 species of birds, 133 species of mammals as well as 122 species of reptiles. A day spent here is enough to expose you to part of these species including plant life. This place is ideal for lovers of nature.
Spend a Day in Hoa Lu
Formerly the capital of Vietnam in 10th and 11th century, Hoa Lu is a great destination to explore part of Vietnam's Culture and history.
The city presents a citadel filled with monuments and temples, built to honor various emperors of Hoa Lu. For lovers of art, Hoa Lu should not be a miss while in ninh binh. It features both modern and ancient architecture exhibited by these numerous temples.
Admire several breathtaking views sparkled by a backdrop of Limestone Mountains. Impressive Truong Yen festival is an addition while in Hoa Lu, it's hosted every third month of the lunar New Year.
Take a Bicycle Tour
This is one of the best ways for exploring Ninh binh to your most, several guesthouses around offer free bicycles for their clients to book for a tour with a guide. This is rated best as a fantastic gateway to be immersed into history and culture in the northern part of Vietnam.
Try on Local Cuisine
With diverse range of delicious local dishes, Ninh binh is fabulous at offering a local experience of tasting on some of the dishes served. One of the most favorite is com chay, it's made from rice burnt and scrapped off the cooking pot, served topped with juicy pork.
Best Restaurants
Ninh binh presents a wide range of inviting restaurants to have breakfast, lunch and dinner on your days in this locale, below are some of our most recommended:
Trung Tuyet. Located close to the train station, this eating place wows most of visitors with its mouthwatering dishes served and hospitality offered by the staff.
Chookie's. This is more famous at offering both the Vietnamese and Western type of food, enjoy delicious burger with French fries or relax with a bottle of beer served at affordable prices. It's located along 17 Luong Van Tuy, Ninh Binh 40000, Vietnam. Besides serving nice dishes, they also arrange bike and automotive trips around the area.
Viet bamboo Restaurant. What a delightful place to eat in Tam coc, the owner of the place is the chef as well as waiter. Services provided seem inviting to most of visitors. It's an open getaway to taste on fantastic spring rolls and deep fried pork.
Minh Toan Restaurant Father Cooking. Starting from serene environment, fascinating dishes prepared using up to date ingredients to incredible hospitality offered by available staff are the reason why most visitors like it. Enjoy the tasty fried rice and fascinating spring rolls.
Bamboo Bar and Restaurant. Here you can find a pretty giant menu with lots of Vietnamese dishes. Be allured by the special dishes served like grilled meat as well as a tranquil environment in the area.
Top Hotels in Ninh Binh
The Reed Hotel
Excellent services and Superior facilities offered creates an enticing environment to stay. The Hotel offers its visitors access to diverse range of services. From Wi-Fi internet connection, 24 hour room service, fireplace, daily housekeeping to Taxi services.
Emerald Resort
Situated on the edge of Van Long Nature Reserve, this resorts ranks best at offering enchanting services. Its spacious villa style rooms comes with free Wi-Fi internet connection, flat screen TV with satellite channels as well as coffee making facilities. The resort presents a landscaped garden with tranquil atmosphere, a spa, three swimming pools and two restaurants serving several dishes.
Hoang Son Peace Hotel
If you are after comfort, then you should opt for Hoang Son peace hotel while in ninh binh. Its rooms features all facilities including cloth rack, flat screen TV, Free Wi-Fi, Mirror, Towels and more. Throughout the day you can spend your time in its attributed amenities including fitness center, serene gardens and Karaoke.
Tam Coc Garden Resort
Being located 12km from the city center, Tam coc resort provides a favorable accessibility to important town facilities. The resort presents sixteen beautifully air conditioned guest rooms with free Wi-Fi internet connection, Mirror and other laundry services. Spend your day swimming in their available pool, participate in fishing or relax in their calm gardens available.
Ninh Binh Legend Hotel
Designed in a fanstastic French style, legend hotel consists of over 108 guest rooms packed with all services. It also has a variety of multifunction rooms suitable for all kinds of events. On site restaurant serves local dishes, European as well as Asian dishes. Other facilities include a spa, swimming pool and tennis courts.
Hidden Charm Hotel and Resort
Fill luxurious in the high quality room facilities which are provided fully equipped with all facilities including Flat screen television, bathrooms, toilet, cloth rack, free Wi-Fi and welcome drink. It also offers a variety of fantastic recreational facilities, from yoga room, sauna, hot tub, fitness center to outdoor pool.
Getting around
Ninh binh is one of the top attracting spots in Vietnam packed fully with lots of interesting features, from ancient temples to cool relaxing rice paddies.
Hire a Motor Bike. Motorbikes are available for hire at hotels or shops with a rider, visit different enchanting attractions within ninh binh. Admire the spectacular views of the rice fields on a motorbike through these natural grounds. Expect to pay about 100000 Viet dong for mini bike and 150000 Viet dong for automatic bike per day. Motorbike rider charge around 270000 Viet dong per day.
Rent a Bike. Another impressive way of getting sight of views for rice paddies with a backdrop of mountains and terrific landscapes. Riding a bike around ninh binh is beyond fun to exploring the local villages, beautiful temples as well as tempting nature reserves. Expect to pay between 20000 – 110000 Viet dong per day.
Hire a Car. This is more convenient when you are travelling with kids, ask your hotel to arrange the Car booking or inquire with a local agent for best offers, you can hire it with a driver. Expect to pay about 2300000 Viet dong per day.