Smog so thick your eyes burn, picturesque lakes that are better viewed from a distance, crowded streets that were seemingly constructed at odd angles to help you loose your way, locals and foreigners sitting on street corners drinking cold beers and cyclo drivers trying to get your business even inside restaurants.
Welcome to the old quarter of Hanoi, capital of north Vietnam in June – the height of summer and rice crop burning season.
If we thought Hoi An was hot in June, then Hanoi was a nasty surprise. 39-43 degrees every day with humidity off the scales. The pollution during the day was terrible. At night it was horrific as farmers surrounding Hanoi were burning their rice fields after harvest. We did have one relatively clear morning to enjoy the views over Hoan Kiem Lake though. The view was beautiful and the kids enjoyed eating ice creams while watching the crazy traffic and lake.
Despite the heat, pollution and maze-like streets Hanoi are charming. The people are friendly and a lot more relaxed than in the south. We really liked the people of northern Vietnam. They're so helpful and welcoming. Apart from the cyclo drivers and the odd sunglasses seller, there are a lot less touts here and many friendly shopkeepers that are just as happy to chat with you or ignore you, as to sell you something. At a cooler time of the year I could see myself happily spending weeks learning more about this city.
Broken elevators and split eyebrows
Our first few days in Hanoi were spent with my mum and Wilson at the Thang Long Opera Hotel. The hotel's in need of a desperate renovation and the breakfast was stale so all in all we wouldn't recommend it.
Noah had another run in with the looser regulations in Asia – getting stuck by himself in a lift that was desperately in need of a service. Colin was racing him to ground level in the hotels second lift but unfortunately for Noah, his lift got stuck between floors. From the doorman's speed in getting it open it was pretty obvious that it happens frequently (not surprising given the age of the lift) – just not often with a 4-year-old inside.
Noah also managed to trip over in the hotel room on the same day and hit his eyebrow on a chair, managing to split it open. We ended up in an International Medical Clinic getting him seen to as it was quite wide. Good luck getting medical tape to stick when it's 40+ degrees outside and ridiculously humid. Thankfully it healed fine!
Temple of Literature and Ho Chi Minhs Tomb
The kids really enjoyed visiting the Temple of Literature, the site of Hanoi's first university in 1076AD. The temple design is modeled after The Temple of Confucius in the Chinese city of Qufu and has five different courtyards filled with shady trees, ornamental gateways, fish ponds, twisting paths and bushes in the shape of various animals.
Noah and Hayley had a great time racing Vu, our tour guide through the different courtyards and looking at all the large stele carved on the back of giant stone turtles as a testament to every student who has achieved Mandarin status.
<>
<>
The highlight though was the water buffalos that Vu made for the children out of leaves and grass, complete with moving heads. It was something he learnt to do as a child and hopefully I watched him make them enough times to replicate it!
<>
We finished our organize tour of Vietnam with a visit the Ho Chi Minh's tomb and the surrounding gardens. Ho Chi Minh died in 1969 and requested that his people cremate his body. He expressly stated that he did not want to be preserved and put on display like Lenin. Of course 41 years later his body still sits on display in a huge Mausoleum near the presidential palace.
Viewing his body surrounded by serious Royal Guards was a surreal experience, and he honestly looked in such good health we wouldn't have been surprised if he had of sat up. Apparently his body is relocated to Russia for three months every year for preservation and embalming processes.
No photos of course – nor hats, cameras, singlets, sunglasses allowed! The Presidential Palace and gardens are worth walking through to see how humble a man Ho Chi Minh was, turning his back on the huge nearby French palace in favour of a small cottage.  The kids enjoyed watching the changing of the guards at Ho Chi Minh's lake cottage (two tiny rooms on stilts), eating ice creams, looking at the toy vendors and watching the fish in the various lakes around the palace.
Water Puppets and cyclo rides
Nanna and I took the kids to the Water Puppet show and for a cyclo ride, while Colin and Wilson enjoyed watching the State of Origin match. The water puppets were excellent. The kids loved the first 30 minutes but after so many weeks of travel Hayley fell asleep half way through. I'd happily go back to watch them again and again. It's worth paying the extra for the seats up the front. We were near the back and while we could certainly see everything, we were a little too far away to really get into the atmosphere of the show.
The cyclos seem a little gimmicky but it was a great way to see the old quarter with its maze like streets. Sunglass shops are all grouped together on one street, toys on another, shoes on yet another street. Unless you know where you're going you'll wander for ages trying to find what you're looking for. We spoke to one couple that searched for sunglasses for 3 hours, only to find out the next day they were one block away most of the time. Cars go to fast to get a good idea of where everything is and walking takes too long – a cyclo ride is a good way to get an idea of the layout of the old quarter.
Hayley and Noah loved the cyclo, particularly when they tried to cross busy intersections with buses and bikes coming at us from every direction.
Bye Nanna, onto the Ethnographic Museum
After almost two weeks with Nanna and Wilson we said good-bye and moved to Classic II Hotel. For $24US a night, including a basic breakfast it was a great find. Right in the middle of the old quarter the hotel has rooms three times the size of most hotel rooms.
Our last visit in Hanoi was the to the Ethnographic Museum. The museum covers the many distinct cultural groups living within Vietnam, including their costumes, way of life, death rights, traditional houses and even some of their drinking games.
While the interior area of the museum is not all that interesting for children (although I could have spent a good couple of hours reading everything), the surroundings gardens were wonderful. They are filled with traditional long houses, high houses, family compounds and recreated villages that you can enter and explore. There is even a water puppet show, although its not as good as the one in town and a huge see-saw that one cultural group uses as part of a drinking game. The game essentially involves drinking, then riding the see-saw until someone falls off before drinking again.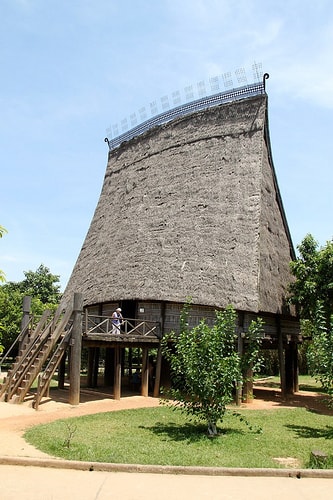 <>
Inside the houses we could explore bedrooms and see how they cooked. It was very educational and fun.
Of course some of the carvings were a little colourful. I loved the male and female stairs leading up to the long house, particularly the female's stairs with the carved breasts that you need to grab as climbing up.
Noah and Hayley liked the carvings around a burial tomb of pregnant women and naked 'happy' men. I'll let the pictures speak for themselves…
Goodbye Hanoi, Hello Chi Minh
After 5 days in Hanoi we flew back to Ho Chi Minh for a few days before heading to Cambodia to meet up with a friend. Thankfully a cool change had come through Ho Chi Minh and the temperatures were down to a pleasant 30 degrees with afternoon storms. Perhaps it was just the cooler temperatures but we enjoyed Ho Chi Minh more than Hanoi. Within a short walk of Cat Huy Hotel where we were staying were cinemas, supermarkets, lots of restaurants, toy stores and well stocked 7-11 style markets. Ho Chi Minh also seemed to have a lot more playgrounds a short cab ride away.
<>
The location of our hotel down back alleyways also gave us a great insight into local life – Ho Chi Minh as a city has large modern buildings along the main roads but turn down a little alleyway inside each city blocks and its a different world. Small crowded houses with tin roofs, bare-bottom babies running around, tiny hair dressers and clothes menders, old ladies cooking dinner and families living a life outside of tourism. Not to mention fresh food markets with ridiculously fresh cuts of meat, buckets of prawns still alive, fruit for sale, peanuts and lunches being barbecued over small coal stoves. It was well worth exploring.