Are you planning a trip to Mexico's Riviera Maya and looking for some fun experiences to have? In this post I am going to share with you some of the best things you can do in this area from swimming with Whale Sharks to exploring magical underground caves, there really is something for everyone in The Riviera Maya.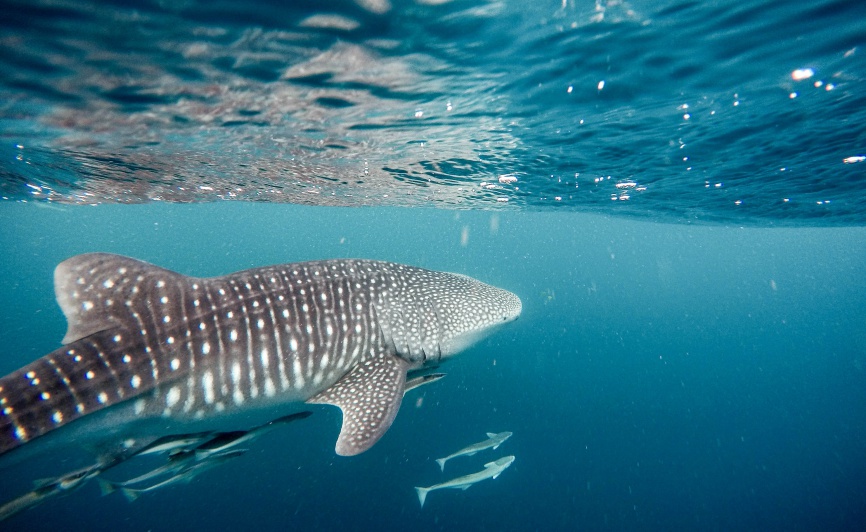 Go Swimming with the Whale Sharks
Of all of the tours you can possibly do in the Riviera Maya this one had got to be my favourite! Sadly you can't do it all year round though as Whale Shark season runs from May to September, but if you happen to be visiting during this time I would highly recommend doing this tour. It is a snorkeling tour great for all of the family available in two locations, Isla Holbox and Isla Mujeres. The most popular is Isla Mujeres as you can take a tour easily from Tulum, Playa del carmen, and Cancun, the most popular tourist destinations. If you decide to take the tour from Holbox you will need to stay there overnight as the tour leave at 6am on the Island.
Go Snorkeling in Puerto Morelos
I'm a huge fan of Puerto Morelos.It's a small fishing village in between Cancun and Playa del Carmen that makes the perfect location for a more low key vacation. It is also a great place for a daytrip, especially for any water lovers.
Puerto Morelos is considered the best place in the Riviera Maya for snorkeling thanks to the Great mayan Reef. Unlike in other areas the reef is very shallow here so you can easily snorkel over is and get a great view without having to dive down.
Although there is a point where you are able to swim out from the shore, I would strongly recommend booking a tour to take you out by boat.
Relax as You Float Down the River in Sian Ka'an
One of the most beautiful places you can visit in the Riviera Maya is Sian Ka'an Biosphere Reserve. Especially if you are a wildlife lover! In the Mayan language Sian Ka'an means "place where the sky is born" and you will understand why, when you find yourself blissed out and floating down the river soaking up the view.
The only downside is getting there. Unless you know your way around and have a 4×4 vehicle this is not a place I would recommend going to alone. The road into Sian Ka'an is pretty bad and it can get even worse if it's been raining. It is far better to go worth a local guide.
So what is so incredible about Sian Ka'an? Well it's a great alternative to swimming with dolphins in the Riviera Maya or swimming with Turtles at Akumal. Both of which are very bad for the animals. Unlike many other animal encounters, in Sian Ka'an you will be able to observe animals in their natural habitat. You can expect to see dolphins, turtles, plenty of birds, and if you get lucky, you might even get to see some crocodiles and manatees!
Scuba Dive the Great Maya Reef in Cozumel
Cozumel is one of the worlds best dive spots, especially for drift diving. On my last dive here I saw sharks, turtles, and so many other incredibly fish I can't list them all. I love diving in Cozumel and could spend all day listing reasons to dive in Cozumel, but I'll keep this short.
If you want to really explore the Great Mayan Reef then Cozumel is the only choice of diving spots in the Riviera Maya in my opinion. It is well known for being a place where you can regularly see turtles, nurse sharks, and eagle rays during the in season. There are plenty of great dive operators on Cozumel but I'm a big Scuba Tony fan and never dive with anyone else!
Visit Chichen Itza
Now I know Chichen Itza isn't actually in the Riviera Maya, but it's close enough. You can;t visit this part of Mexico and be so close to one of the Seven New Wonders of the World and miss out of visiting it!
There are lots of ways to visit Chichen Itza, I've driven there and explored on my own and done a private tour. There are also lots of cheap day tours you can do from pretty much anywhere in the Riviera Maya. In my opinion I didn't save that much driving there when you add up fuel and tolls, but having the freedom to explore is nice. Obviously the private tour was a much better way to see Chichen Itza, but it will cost a little more.
Explore the Mayan Underworld
You really can't visit the Riviera Maya without exploring a few cenotes. If you don't know what a Cenote is read this. It is basically a big natural sinkhole that you can go swimming in. They are all freshwater and perfect for cooling off on hot days.
There are cenotes spotted around all over the Yucatan Peninsula connected by an underground river system. Some of my favorites are in the ruta de Cenotes in Puerto Morelos, or between Tulum and Playa del Carmen. The ones like Cenote Azul and Doe Ojos can be reached easily by public transport, but can also get crowded.
I really hope this list of my favorite experiences to have in the Rivera Maya has helped you to find some new places to explore on your vacation.
---
Claire
Claire Summers is a Travel Writer, Blogger and Vlogger originally from the UK. She writes about her travels over at Claire's Itchy Feet.