Many people may be surprised to find that there are plenty of fun and exciting activities and places to visit with the entire family in Bangkok. The Thai capital actually has plenty to offer in the way of entertainment for kids of all ages and personalities, so you can be sure that your entire family will have a great time exploring this unique city.
Here are some of the great things you and your kids can enjoy during your adventure in Bangkok.
Go for a bike or tuk tuk ride.
You can rent bikes from Spice Road Tours for the entire family, including children's bikes, tow-aways and infant/toddler seats and take a private tour around the city, or self-cycle.
Alternatively one of the largest parklands in the city is situated near Chatuchak Markets offers bicycle rentals to explore the park with. Three parks, Chatuchak Park, Rot Fai Park and Queen Sirikit Park are adjacent to one another and cover a huge area filled with lakes, flower gardens, bridges, paths and even a couple of playgrounds. In Rot Fai Park you can hire bicycles, including ones with infant seats and smaller bikes with training wheels for young children. Go on the weekend and visit Chatuchak markets where there fascinating things to look at, as well as drinks, ice creams and bubbles.
If riding in Bangkok sounds a little daunting be sure to take a tuk tuk ride around. Tuk tuks are generally more expensive than taxis but for a once off treat it's a fun way to see Bangkok. Just be sure to bargain hard, and try to avoid hiring one outside of major attractions like the Royal Palace if you don't want to pay top dollar.
You may also like: 15 Vegetarian Restaurants You Should Try in Bangkok
Visit the elephants.
The Samphram Elephant Zoo is an hour outside of Bangkok itself but definitely worth the trip. There is an elephant show, where the elephants play soccer and dance. You can also watch as the brave wrestle crocodiles. Kids can feed the large catfish and ride on the fun water bikes. And of course, you get a chance to ride on an elephant!
A word of warning though – like most zoos in Asia, many of the enclosures are small, bordering on cruel and at times you do wonder how well the animals are treated when no tourists are watching.
If you would rather see elephants in a more caring and natural environment, make the time in your travel itinerary to visit the Royal Elephant Kraal near Ayutthaya.
Make time for the aquarium.
Siam Ocean World is an aquatic adventure for all ages. It sits two stories below the Siam Paragon shopping center and is the size of about three Olympic swimming pools. There are more than 30,000 creatures from all over the world.
Visitors can even choose to dive into the "Open Ocean" with predators. If getting up close with sharks isn't your family's idea of fun, the family admission ticket includes a 5D Experience cinema, a glass-bottomed boat ride, a fish spa and popcorn. Although you'll probably find the standard admission more than enough to keep you occupied for hours as you explore the many different ocean zones. Allow at least two hours, although don't be surprised if the kids want to stay at least twice this long.
Discount entry is offered on Tuesday. Buying your tickets in advance through Siam Ocean World's website also offers a small discount on prices.
Take a trip to the zoo.
The Dusit Zoo is the home of about 1,600 animals from many places around the globe. It is the first zoo in Thailand. Kids will enjoy seeing all kinds of animals, from penguins to lions, plus playing in Play Land, where there are rides.
Go on a river cruise.
Take the opportunity to relax on the river and explore the area from a new perspective when you venture into the canals. There are seed boats to journey on and even converted rice barges for slowing down and enjoying cocktails and fruit.
The public river ferry's are the cheapest way to experience a river cruise and a great way to get around the city. Although they can get ridiculously overcrowded at times. It's a good idea to hold onto your children's hands at all times to avoid getting separated as people crowd on at each stop.
Visit a temple or palace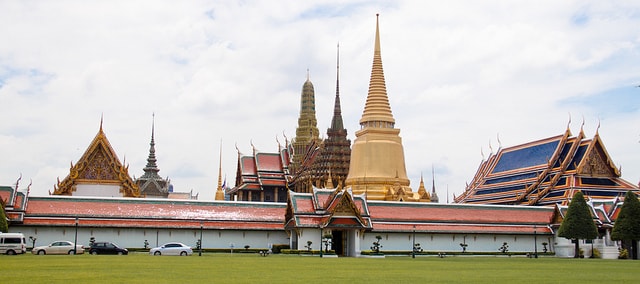 Inner Bangkok has some of the most beautiful temples and palaces that you will encounter anywhere in Asia.
The most famous is the temple complexes within Grand Palace, particularly the Temple of the Emerald Buddha. Of course it's also the most expensive to visit. But with all the gold gilding, beautiful colours and intricate details, as well as the shear scale of the complex it's well worth the visit. The weapons museum is interesting for kids, as is the Mint filled with old coins and the palaces. Ice creams and drinks are on sale on site but take plenty of water and hats as it can get very hot inside.
Wat Arun has much cheaper entrance fees and is usually less crowded so it's a good alternative with children. The temple complex is stunning. Located on the waterfront, the temple offers lovely views of the city and you can combine a trip there with a boat ride!
Spend time at an amusement park.
Dream World is like a Thai Disneyland, just on a smaller scale. Still it's a great size theme park for a one day outing with plenty of rides for all ages, particularly any children over 90cm tall.
It is divided into different sections: Dream Garden, Fantasy Land, Snow World (yes snow in Thailand!) and Adventure Land. It has roller coasters, bumper cars and many other familiar rides that your kids love. Our kids loved Fantasy Land, particularly the Giant's house from Jack and the Beanstalk.
<>
Another park, called Wonder World Fun Park, offers many rides and attractions for everyone to enjoy.
Make a splash at a water park.
Everyone enjoys a day at the water park, so plan some time to enjoy one on your trip. The Fantasia Lagoon sits atop the Mall Department Store and has huge pools and waterslides. The Leoland Water Park is on top of the roof of the Central City Bangna shopping center and has many of the water rides your family enjoys. The biggest and best water park is Siam Park, offering water rides, fountains, playgrounds, a zoo and botanical gardens.
There are so many great places to explore around Bangkok. You can find plenty of activities to do in Bangkok with kids that will keep you all busy and entertained.