When we travel around South East Asia we've come to expect a few transportation hiccups. At some point during the trip it's a safe bet that one of the bus or minivan trips will involve:
a scam, or three;
a breakdown, or three
multiple delays, usually resulting in missed connections;
"local time", aka "the bus leaves at 1" actually means the bus leaves closer to 2 and a 6 hours trip could mean anything from 6 to 8 hours.
your bus looking nothing like the bus on the photo;
baffling miscommunication or so little communication that you start to wonder mid-trip whether you are actually headed to the wrong destination;
an insane driver that has you hoping you make it to any destination;
baffling driver behaviour like stopping for petrol 2 minutes from your destination or perhaps stopping every two minutes along the way to pick up groceries, that may or may not include several chickens.
It's part of travelling around in Asia. It can be frustrating but it's what makes for a memorable trip right? Unfortunately on a recent bus trip from Phnom Penh in Cambodia to Koh Chang, an island just across the Thailand border, we encountered every single thing I've listed except for a breakdown.
At least we didn't break down!
The night bus to Koh Chang fiasco
Last month Colin and the kids had just left Phnom Penh, Cambodia for New Zealand. My friend and i were on our way to Thailand. First stop Koh Chang, an island just across the Thai border. My friend wasn't keen to waste daylight hours on buses so after some research we discovered there was a 12 hour direct night bus from Phnom Penh to Koh Chang.
The guesthouse we were staying at said the company was reliable. From what I knew about the journey, 12 hours sounded best case but not impossible. Driving from Phnom Penh to Koh Chang by car takes 8.5 hours so it made sense that a bus would take longer. Buses are slower, the border crossing would be slower and it would most likely go a less direct route to pick up other travellers. Even allowing a few more hours for delays we should be sitting on a beach by mid afternoon so we decided to book it.
Things started to go wrong from the minute we arrived at the bus station.
The midnight departure time came and went with no bus. That showed up at 1.30am, looking much shabbier than the marketing photos. Thankfully it was a night bus with sleeper beds, just a rather grotty night bus. And of course the onboard toilet was out of order.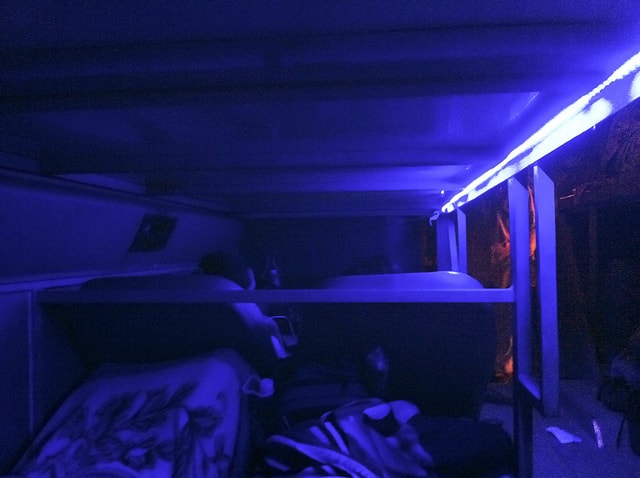 Now I'm not normally a princess about toilets being out of order. I've travelled long enough to know this stuff happens and if I need to use a crappy bus stop to pee in the middle of the night that's life. But there are a couple of nights each month that a girl can need access to a toilet in a hurry and this was one of them. I'd made sure the company had buses with toilets before booking for that reason. Discovering there was no toilet was more than a little annoying but at 1.30am there's not much to do but deal with it!
An even bigger problem was that during our wait we'd realised we were the only two people going to Koh Chang.
Everyone else was headed to Siem Reap or other destinations in Thailand. Initially we thought there might be two night buses coming; a Thailand bus that would sort out the different destinations at the border and a Siem Reap night bus.
But after the mythical Siem Reap bus was also 1.5hrs late it became apparent that everyone was on the same bus. We were headed to Koh Chang via Siem Reap.
So what is exactly wrong with that?
Well here's a map showing the direct route from Phnom Penh to Koh Chang: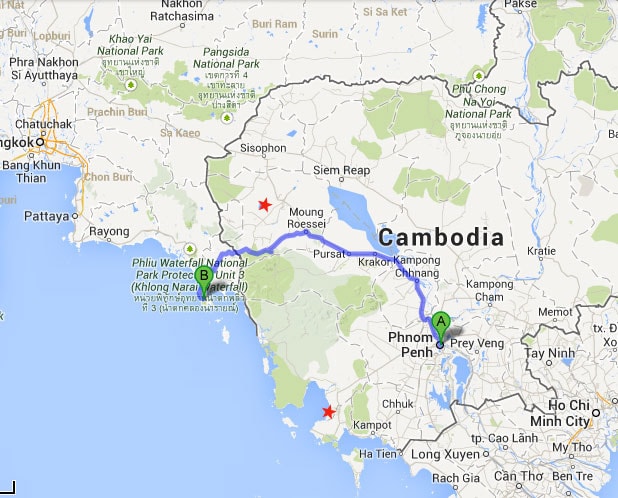 As I said, I was expecting the bus to not go there on that direct path. I thought it would go via one of the places I've marked with a star, both popular tourist towns, to pick up other passengers. Either would add extra time and mean taking a different road but a 12 hour trip was still possible going through either town.
Going via Siem Reap meant our trip looked something like the green path below:
Roughly twice the distance. Each of those additional stars on the green path are places we'd had to stop along the way. Without a faster than light drive or a ferrari, not even the guys from Top Gear would take on the challenge of making this trip in 12 hours. It's simply not possible.
All aboard ….
So 1.5 hrs late, no toilet and knowing there was no way 12 hours was going to happen we boarded the bus at 1.30am feeling more than a little annoyed.
Two hours in we woke up in the middle of nowhere (around the first star on the green path) on a dimly lit highway in a pitch black bus with everyone asleep. Everyone including the driver.
Crap? Had we broken down?
Thankfully not. The driver needed a nap so he had pulled over to sleep.
We were annoyed at the time. Another delay to our already blown-out trip and we weren't even at a rest stop so getting off to pee meant trudging out into a dark field with torches to pee into a ditch.
Of course three days later when we read online that a night bus had flipped over in Laos killing several passengers because the driver had fallen asleep we felt a lot better about that rest stop.
We pulled into Siem Reap at 8am and got to witness a classic bus company scam.
Having just left Siem Reap by bus a few days before we knew the location of the main bus station. This wasn't it.
We pulled up at an office on the outskirts of Siem Reap. Everyone's bags were taken off the bus and confusion erupted. It didn't help that you had passengers departing in Siem Reap as well as passengers heading to 3 or 4 different destinations in Thailand. But what really didn't help was staff giving out different instructions. "If you are going to different places in Thailand you will be on different buses from here." "Everyone going to Thailand is on the same bus." "Just wait outside the bus." "Get back on the bus." "Get your bags." "Leave your bags there."
While the Thailand passengers stood around confused, the bewildered Siem Reap passengers were handed over to a group of tuk tuk drivers all helpfully offering to take them to their accommodation in the town centre for a fee.
Eventually everyone going to Thailand boarded the same bus only to drive right into the heart of Siem Reap where we stopped a one minute walk from pub street. From this location it's a short walk to almost every hostel in the city or a $1-2 tuk tuk ride to all the other hotels. By stopping out in the middle of nowhere everyone headed to Siem Reap on our bus had been scammed into expensive tuk tuk fares.
Finally Thailand!
We changed buses and left Siem Reap three hours later than scheduled for the border. Our delays meant we were crossing into Thailand at Poipet at 11am. Poipet is a busy border crossing and crossing at 11am is usually a recipe for lengthy delays. By catching a bus in Phnom Penh I'd been hoping to avoid Poipet. We should have crossed at a southern border crossing but here we were!
Our one major piece of luck for the day was that the border was incredibly quiet and it only took half an hour to make it through.
At the border the bus company had taken away our bus ticket and given us a sticker that we were supposed to show to their staff on the Thailand side. The sticker was now our only proof that we ever purchased a bus ticket so we held on pretty tight to that! An odd practice but all the companies seem to do it as everyone we saw crossing by bus had colour coded stickers.
As soon as we were through the border we spotted a tent and sure enough some guys waved us over spotting our stickers. We sat around waiting for 15 minutes with everyone else from our bus before another guy arrived to walk us to our minivans.
Or so we thought!
Since our bus was so late arriving at the border we'd missed the morning minivan to Koh Chang. People headed to Bangkok and Pattaya were luckier as there are minivans to these destinations every 1-2 hours but there are only two minivans per day to Koh Chang. The next minivan for Koh Chang didn't leave until 2.30pm, almost 3 hours away.
We hit an ATM, found a street cart making amazing noodles, bought chips and drinks and settled in for a frustratingly long wait. We were already 13 hours into our '12' hour trip and we still had at least 5-8 hours to go. And that was if we didn't miss the last ferry of the day to Koh Chang.
The next scam
The staff operating the bus service on the Thailand side had been amazingly nice. They'd hooked me up with the free WIFI service run by the nearby casino, changed USD to baht for us at a reasonable rate and had generally been nice guys.
So we were pretty surprised when suddenly one of them started telling us that the bus tickets that we'd bought in Cambodia didn't cover the ferry to Koh Chang.
We'd paid $26 USD and had clearly been told that it covered everything. From Phnom Penh to the ferry terminal on Koh Chang itself. Not to the ferry port to Koh Chang, the ticket got us unto Koh Chang and from there we'd have to pay our own way to our accommodation. I'd read plenty of online accounts about the trip from Siem Reap and Sihanoukville and everyone said the same thing – tickets covered the ferry crossing. The price we'd paid matched what they'd paid considering the extra distance we'd travelled but of course our tickets had been taken at the border and replaced with stickers so we couldn't check them. Still we were 90% sure that this sudden story that we needed to pay an extra $3 was a scam.
Particularly since they'd given me access to the WIFI and the 100 baht ferry price they were telling us was higher than the officially listed ferry price online. Oops I guess he didn't think of that when he got me onto WIFI!
We politely told him no thanks, our tickets included the ferry and if the ferry staff told us they didn't we would deal with it when we got there.
He kept insisting and said if we didn't buy tickets through him he couldn't guarantee that the last ferry of the day would wait for us. He said our minibus might arrive at his office late and since the trip could take four hours depending on traffic there was a chance we could be running late for the ferry. If we did buy tickets through him he would ask his driver to call the ferry and arrange for them to hold it for us. According to him everyone else on the minibus had already bought ferry tickets from him so the ferry would wait for them but for us it was too bad, too sad.
We pointed out the problem with that logic. Since we were all on the same minibus, if it was waiting for their minibus it was obviously waiting for ours and we could just buy tickets if we had too.
He wasn't happy.
Eventually the minibus turned up. Twenty minutes late of course. The driver drove like a maniac (with a bizarre stop a a petrol station 15 minutes out of his way) and managed to get us there by 6.45pm. Sadly the first time we were early in the whole trip and it didn't matter since there wasn't a ferry before 7.30pm.
Funnily enough there was no mention of buying ferry tickets. Our bus ticket did cover the ferry. Sure enough no one else on the minibus had paid for ferry tickets separately either.
The minibus driver did however convince us that we would be better off paying 100-150 baht each to get the minibus to drop us directly to our accommodation on Koh Chang. We didn't know at the time if that was a scam but at this point we were 20 hours into a 12 hour trip and didn't really care. It was going to be quicker and easier than negotiating a tuk tuk on the other side so we were happy to pay. Pick your battles right!
We did end up finding out that at that time of night it is actually a pretty good deal. The songthaew drivers on Koh Chang are quite ruthless late at night and you won't get a fare for less than that. So that at least wasn't a scam.
Finally we made it to a bed over 21 hours after leaving Phnom Penh on a 12 hour bus.
Ahh see, they just got the 1 and 2 around the wrong way. 21 not 12!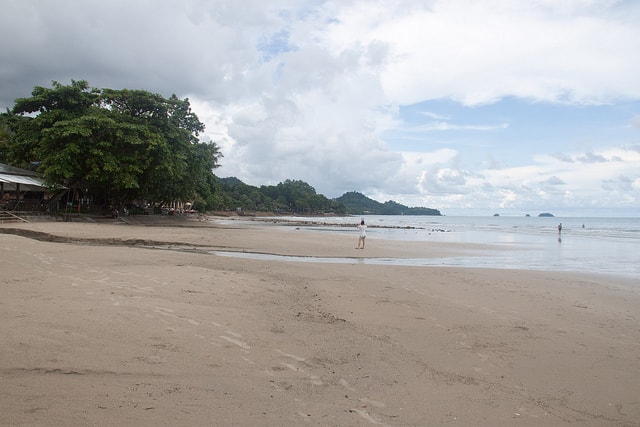 The moral of the story – don't do the 12 hour night bus from Phnom Penh to Koh Chang.
Go to Sihanoukville, Siem Reap or Battambang for a couple of days and take a bus to Koh Chang from there.
There aren't too many travel experiences that I've had that I would flat out say "don't do". This is one of the only ones. It wasn't horrible but there are better, easier ways to get to Koh Chang and this bus isn't what it's advertised to be. If the kids had of been with me I would have been very unimpressed considering it was never going to be a 12 hour trip. Even if everything went perfectly the quickest the trip can be done in is 15-16 hours. If you miss that morning mini van you are looking at 21+ hours. If you miss the last ferry you are facing a 2 day trip. Frankly with kids there are better ways to get there!
Since taking this bus trip I've done some research and seen a lot of bad reports on the bus company we used, GOLD VIP. I really wouldn't recommend them when there are better options in Cambodia. Mekong Angkor Express is very reliable. The new GIANT IBIS bus line has amazing buses. But Gold VIP regularly gets bad reviews.
After a few years travelling around South East Asia, I was able to laugh fairly quickly at the whole experience. For my friend travelling with me, this was her first trip to Asia and her first time in Thailand. It hit her a lot harder. We had a similar first introduction to Thailand and it sucked. You spend the next few days wondering whether you can trust anyone in Thailand. This time around I found it annoying but it was also comically funny to the point of ridiculous. Like a Monty Python sketch.
Thankfully our Thailand trip improved after this. The weather on Koh Chang wasn't great so we didn't get those postcard perfect beaches but we met some amazing people on the ferry who recommended a great place to stay. We hung out with them for several days and had the best Thai food of our whole trip. It was almost worth the trip just for those the new friends and great food!