We're not the most adventurous when it comes to eating out. Which is perhaps criminal considering we're currently living in Penang, world renowned for it's amazing food. So when friends from Singapore came to stay with us who have shall we say a more refined Asian palette we saw it was the perfect opportunity to head to the hawker markets and explore more of Penang's famous offerings. Or at least watch them explore Penang's more exotic cuisine and hopefully discover a few new dishes we liked for ourselves! We chose two hawker centres – Red Garden in Georgetown and Gurney Drive. Both at quite touristy, particularly Red Garden. But they have a great atmosphere and an excellent range of local dishes to choose from. Being touristy they also have plenty of options for the kids. Here's some the fabulous foods we saw (and in some cases tried) at the two Hawker centres. Enjoy!
<>
Fresh prawn crackers
Our entree – freshly cooked prawn chips. OK so that's not exotic at all. But it was delightful and much better than any prawn cracker we've eaten at a Chinese restaurant before. The three kids consumed their combined weight in prawn chips.
With entree's out of the way, it was onto the mains. Serving sizes are usually quite small in hawker markets, but that's perfect as the prices are low and you'll have enough room to order a few different dishes.
Lok Lok
Here's one place to start – the Lok Lok stand. If it can be covered in batter and fried you'll find it here. Sausages, seafood, tofu, egg, chicken and more. Choose your favourites and they'll be cooked on the spot, served hot, oily and chopped into bite sized pieces with chili sauce on the side. You won't find these on a Jenny Craig diet, which is probably why they taste so good.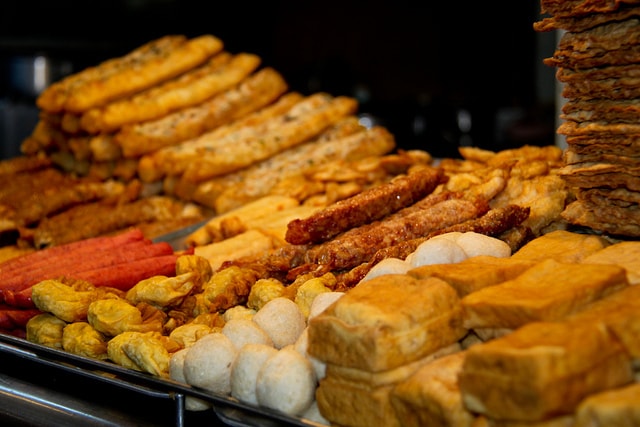 Pie Tee
Pie Tee or Top Hats are my new favourites. A crunchy pastry shell filled with noodles and vegetables topped with chili sauce, dried chili and egg. The contrast between sweet, spicy, soft and crunchy make it a very unique dish. It's really not that spicy and you can ask for them without chili sauce if you prefer.
Spiky shells
I'm officially admitting that I have no idea what these shells are called. I think even locally they're called spiky shells.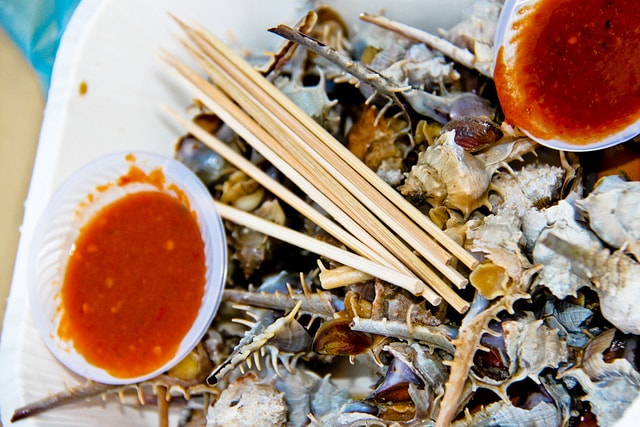 You use a wooden skewer to scoop out the inside and dip it in chili sauce (of course!). Colin and our Singapore friends enjoyed them, even if they were quite fidly to eat.
Penang Assam Laksa
Assam laksa is a hot, spicy, sour fish based soup. The Penang version is quite unique for it's pungent Hae Ko sauce made of fermented shrimp paste and the addition of sour pineapples to flavour the sauce. It's usually quite spicy and filled with noodles, fish, vegetables and mint. I'm still not sure if I like it. Gurney Drive is a good place to take assam laksa for a test drive as many places have modified the recipe to make it more tourist friendly. For a more authentic assam laksa head to Balik Pulau on the other side of the island – I tried assam laksa here last year and it definitely wasn't to my liking but it was so unique I'm glad I tried it.
Pasembur
Pasembur is a very popular Penang food. At Gurney you select from a range of battered vegetable, meat and seafood dishes that are then sliced on your plate before being covered in shredded cucumber, chinese turnip and a spicy sauce made from sweet potato. Chinese Pasembur often comes with jellyfish on top, while the Indian version has other types of seafood and a more satay sauce. You can ask for without the seafood or jellyfish if you prefer! Pasembur is almost impossible to describe, you really need to get it for yourself and see.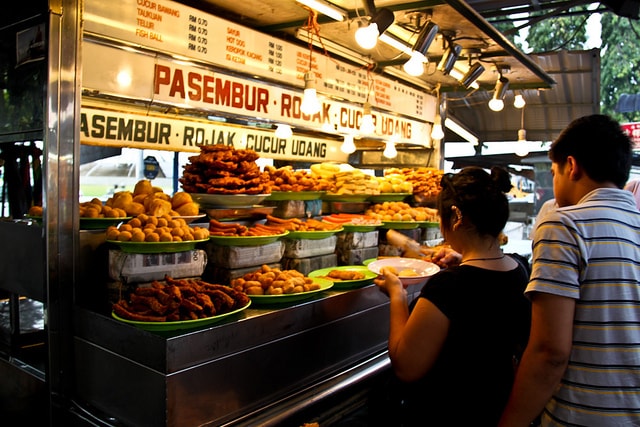 Fish head curry
That brings me back to the photo at the start – Fish head curry. Fish head curry looks and smells amazingly appealing. That is until the unadventurous part of me takes note of something strange floating in the broth.
The first time I saw it my reaction was something like this … "Smells fantastic, all those herbs and colours WOW … but wait … what's that? Is that teeth? And an eye? No it can't be!! No it is … it's a whole freaking fish head! They can't be serious".
But yes it is a fish head floating in curry sauce and yes the Malaysians are completely serious. A mixed of Chinese Peranakan and Indian origin, the dish is prepared from a fish head the size of your hand stewed with thick sweet-sour curry gravy and served with vegetables, herbs and spices, including tomato, lady finger, fresh mint leaves and plenty of shallots. Everyone tells me the flavours are amazing. And not just locals, western friends assure me it's fantastic. And I'm sure it really is. Something that smells and looks that good must taste great. But I just can't eat anything that still has eyes and teeth. I'll stick with dahls and vegetable curries thanks.
Drinks and fruits
With all this food you'll definitely need something to wash it down. Most hawker markets in Penang have a great range of fresh juices, beer and soft drinks. I'm a fan of the nutmeg juice.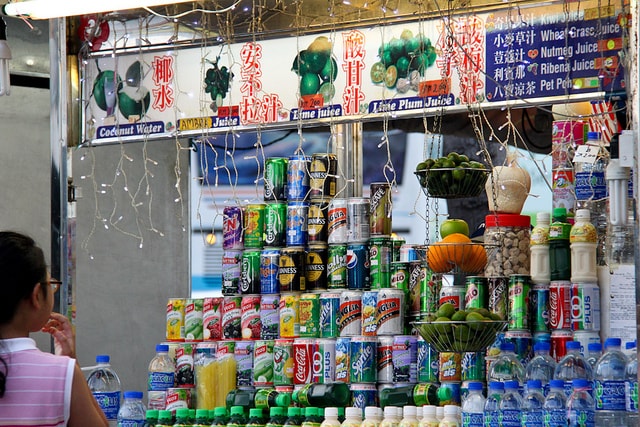 A few of the hawker markets also serve fresh fruits and steamed corn. Gurney Drive Hawker Centre has both, making a good place to dine out with fussy kids.
Cendol
And finally we come to dessert Malaysian style. This is Cendol. Imagine you let your 4 year old loose unsupervised in your kitchen with instructions to make Mum and Dad a tasty treat. You might end up with something like Cendol.
Cendol's basic ingredients consist of coconut milk, a worm-like jelly made from rice flour with green food coloring (usually derived from the pandan leaf), shaved ice and brown palm sugar. Often other ingredients such as red beans, glutinous rice, grass jelly, creamed corn might also be included. It's sweet and cold, and tastes A LOT better than it looks.
So there you have our latest food adventures in Penang! Don't worry, if you are as unadventurous as us there are plenty of local dishes to choose from that are a little more familiar. Satay chicken, nasi goreng, Indian curries and breads, fried chicken, wan ton noodles … just to name a few.
But given that the dishes I've show above only cost 2-6RM per plate it's worth ordering something a little more exotic just to give it a go – even if you don't like it you're not out of pocket by much and can always order something else.