I recently met up with a former luggage store employee who is now a frequent traveler and travel blogger. Her name is Lara. She used to work in a couple of luggage stores in New York City. She knows a lot about luggage and travel bags prompting her friends to call her the walking luggage wikipedia.
Now that Lara has been experiencing the rigors and challenges of traveling herself, she gets a sense of fulfillment knowing that she has made the trips of her previous customers less grueling by helping them pick the perfect luggage out of the myriad of choices on display.
She admits missing the good old days she spent greeting and assisting customers to choose the right piece of luggage. Knowledgeable luggage store sales assistants are worth their weight in gold, according to Luggage Direct, a luggage retailer that many seasoned travelers have relied on for their travel needs.
Lara was kind enough to share with me some bits of wisdom that makes one a wise luggage buyer. She revealed the qualities that more experienced travelers look for in luggage. These tips will not only be helpful to first-time travelers but also assist newbie luggage store sales assistants learn the tricks of the trade and become better employees, she said.            
Let's hear from Lara herself talk about all those luggage secrets. What follows is the continuation of the short conversation I had with her about her experiences working in luggage stores in the Big Apple:
Question:
What do you think is that one quality that is on top of your list that makes an item of luggage really stand out among the rest?
Lara:
Well, that's the one million dollar question, I'd say weight is everything. Most, if not all the veteran travelers who came to the luggage stores I used to work with looked for a piece of luggage that is light and has a dimension that fits the overhead compartment of commercial airplanes.
You don't want to lug around a heavy travel bag and pay an extra 50 dollars for that extra weight, do you?
Question:   
What does the dimension of the plane's overhead compartment got to do in choosing the perfect luggage? Does it really matter?
Lara:
It saves the traveler time and money. A bag that fits the overhead compartment eliminates the need to check it in. Why wait in line counting many boring minutes just to check your bag when you can just bring it with you on board. The same is true on arrival, it saves you the time waiting beside the baggage carousel.
Question:
That makes a lot of sense, and it got me thinking about how much my luggage weighs and what its dimensions are. Since you are luggage weight conscious, I suppose you wouldn't recommend buying hard-side luggage, right?
Lara:
Had you asked me that question say, a decade ago, yes, I wouldn't recommend a hard-sided suitcase. Back then, hard-sided travel bags were made of heavy materials. However, nowadays most hard-sided suitcases are made of lightweight materials such as polycarbonate. Some of the hard-sided luggage available in the market today would even weigh as little as the soft-sided ones.     
Question:
Speaking of hard-sided and soft-sided luggage, customers might have the impression that the hard-sided ones are more durable than the soft-sided ones — is that correct?
Lara:
Not really. Innovative design and the advent of modern technology has made the soft-sided luggage just as sturdy as its hard-sided cousin. Soft-sided luggage made of ballistic nylon and Cordura are just as tough and could also withstand the beatings and rigors of travel.
In so far as quality is concerned, the difference between the soft and hard-sided luggage is less apparent nowadays, that I can assure you. Whether to go soft-sided or hard-sided is now just a matter of design preference and personal taste.
Question:
That's very enlightening to hear. What you have just said would definitely settle confusion and correct misconceptions about luggage. Is there anything else you could share with those who are now thinking about replacing their luggage?
Lara:
I often noticed that some customers take the number of wheels of the luggage they are buying for granted. Perhaps they don't consider it an issue and do not mind travelling with either four-wheeled or two wheeled luggage in tow. But, for me, I would recommend a two-wheeled model.
Two-wheeled luggage is less likely to suffer from wheel break than a four-wheeled model. In case you hadn't noticed, the wheels of a four-wheeled suitcase are externally attached making them prone to sudden and forceful impacts which could cause them to break off. On the other hand, a two-wheeled bag usually has its wheels encased keeping it safe from damages especially during stowage.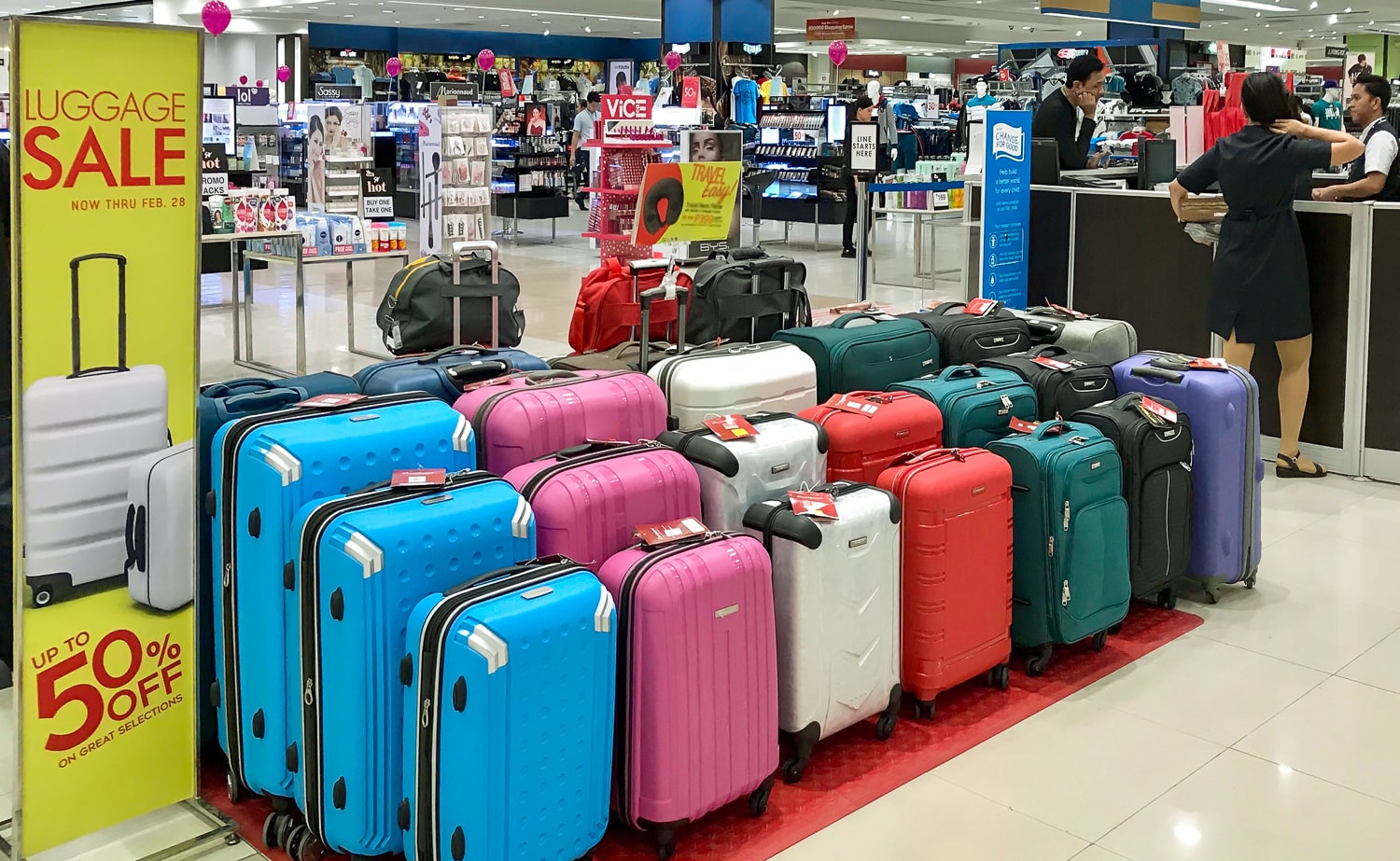 Question:
That's interesting because many people I know have bought the four-wheeled bags and rave about how easy they are to move around in airports.
Lara:
Yes, they are great to have in airports where you have smooth surfaces to roll them on, but try dragging them along a cobbled street and the wheels won't last long. If you are a business traveler and you are only using the bag in airports, hotels and taxis in between, then fine. But if you are a leisure traveler, I would always recommend the two-wheeled models because they are more adaptable to different environments. Try dragging a four-wheeled bag over sand to your beachfront villa and you'll soon see what I mean.
Question:
I would have to admit that when I last bought luggage, it didn't occur to me how important the number of wheels was. I will be better informed next time I need to buy a new bag!
Lara:
Goodluck! Enjoy the scenery.